PiAware
Kendi ADS-B uçuş takibi alıcınızı yapmak ister misiniz?
Key Features
SkyAware web-based map interface displays real-time nearby flights from receiver.

Be part of the world's largest and fastest growing ADS-B network.

Users can connect to their PiAware over their LAN to receive all data.
Track even more aircraft in real-time by contributing to multilateration (

MLAT

) calculations.

Built easily from widely-available low-cost hardware.

Uses free, open source software.
What is FlightAware?
FlightAware dijital bir havacılık şirketidir ve dünyanın en büyük uçuş takibi ve verisi platformuna sahiptir. Havacılığın her alanını birbirine bağlayan FlightAware, küresel uçuş takip sistemleri, tahmini teknoloji, analizler ve karar verme araçlarıyla en az 10,000 uçak operatörü ile hizmet şirketinin yanı sıra, en az 12,000,000 yolcuya hizmet verir.
What is PiAware?
ADS-B receivers are electronic devices that listen for radio signals from ADS-B aircraft transponders and decodes them to determine aircraft positions. FlightAware has created an open source software solution called PiAware to make aircraft data accessible to everyone. PiAware uses low-power hardware like a Raspberry Pi, a Pro Stick (an inexpensive USB adapter), and an antenna to receive signals from aircraft. Together, the software and hardware decipher and display the 1090MHz ADS-B data in SkyAware, FlightAware's web-based map interface that allows users to view aircraft positions on a local network. The receiver also sends the data to FlightAware to provide free flight-tracking on flightaware.com.
Why Should I build a PiAware?
Easiest way to setup an ADS-B receiver.
Receive a complimentary FlightAware Enterprise Account which includes:

8 months of historical flight data.
Unlimited flight alerts.
Registration/tail numbers for airline/callsign flights.
Air traffic control callsigns.
Full screen maps without ads.

Access SkyAware, a web-based map showing all aircraft currently being tracked by your ADS-B receiver.
View multilateration (MLAT) results in SkyAware to track even more aircraft.
Browse detailed statistics about the performance of your site.
See which flights your site helped track in the tracklogs on flightaware.com.
Receive the ADS-B Network News monthly email with tips and tricks to get the most out of your ADS-B receiver.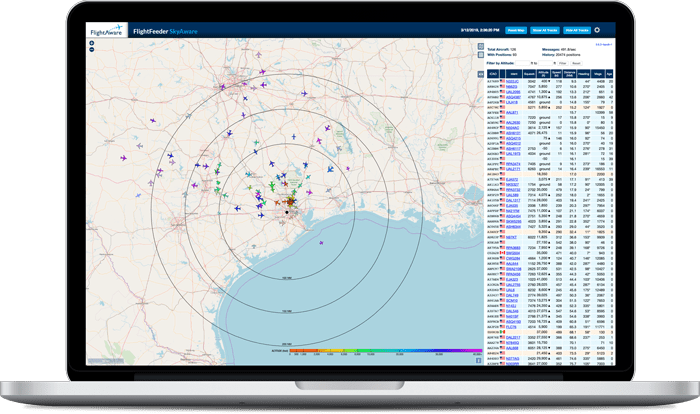 Build a PiAware Receiver
Easy-to-follow instructions are available that detail the process of purchasing, assembling, and setting up of a PiAware ADS-B receiver. It takes about 2 hours to set up a receiver and track flights in real-time (hardware costs around USD100/EUR80).
Install PiAware Software
If you already have a Raspberry Pi, it takes less than 5 minutes to install the PiAware software on it and start sharing live ADS-B with FlightAware.
FlightAware uçuş takibinin reklamlarla desteklendiğini biliyor muydunuz?
FlightAware.com'dan gelen reklamlara izin vererek FlightAware'in ücretsiz kalmasını sağlamamıza yardım edebilirsiniz. harika bir deneyim sunmak adına reklamlarımızı anlamlı ve öne çıkmayacak şekilde tutmak için yoğun şekilde çalışıyoruz. FlightAware'deki
whitelist ads
reklamları güvenilir olarak görmek hızlı ve kolaydır, veya lütfen
premium hesaplarımıza geçmeyi düşünün
.